Vintage Austin: Aqua Fest
Posted by Craig Smyser on Friday, March 3, 2023 at 11:26 AM
By Craig Smyser / March 3, 2023
Comment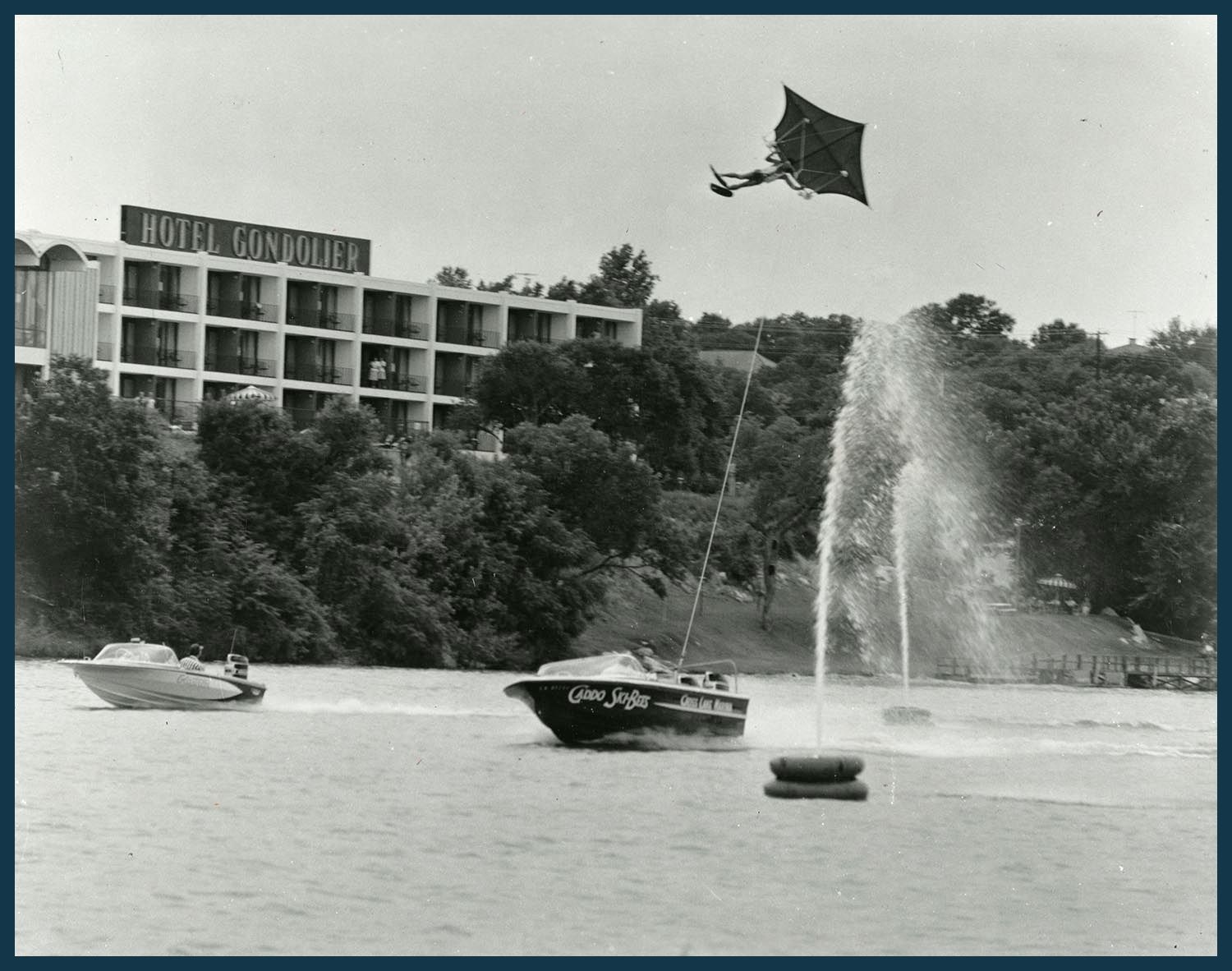 Photo Credit: Austin History Center, PICA 00111
This Vintage Austin photos features the 1970 National Water Ski Kite Flying Championship! The 1970 contest was held on Town Lake as part of the ten-day Aqua Fest. According to the backside of this photo, the contestant must fly a course marked by the water geysers seen in the photo. These geysers were an innovation of the Austin Ski and Boat Club.
Perhaps Austin's first big festival, Aqua Fest ran from 1962 until 1998. It began as a way to encourage tourists to visit Austin during August, the hottest time of year. Over the years, the festival held events from the Hill Country, to what was then Bergstrom Air Force Base, while most events occurred on Town Lake. From a KUT article, they indicate, "there were air shows, pet parades, something called kite skiing and, oddly enough, bowling."
Aqua Fest wasn't loved by all. Residents on the East Side protested for years to have the festival moved away from Festival Beach, as events like drag boat racing were a nuisance. Years of protests and arrests came to an end in 1987 when the Austin City Council finally discontinued that particular event and moved the festival to a new area of the lake.
Music became a larger focus of the festival when it was moved to Auditorium Shores, hosting a battle of the bands and national names across three stages. But again, nearby residents complained that the festival was too disruptive and was outgrowing the space. Ultimately, shrinking attendance and the cost of booking big names like Kenny Loggins and Dolly Parton brought Aqua Fest to an end.