Steiner Ranch Housing Report - March 2020
Posted by Craig Smyser on Monday, March 9, 2020 at 2:44 PM
By Craig Smyser / March 9, 2020
Comment
In this edition of How's the Market in Steiner Ranch, I review the January 2020 sales statistics and look at the past six-months of sales data to get a better picture of the market. If you'd prefer to read about the sales figures, the video transcript can be found below.
To view summary and detailed sales information for all Steiner Ranch neighborhoods, check out the Neighborhood Home Sale Data section of my website. If you are looking to buy or sell a home in Steiner Ranch, contact me via email or at 512-650-7300. Previous editions of How's the Market in Steiner Ranch are also available. If you prefer to read instead of watch, here are the chart and transcript.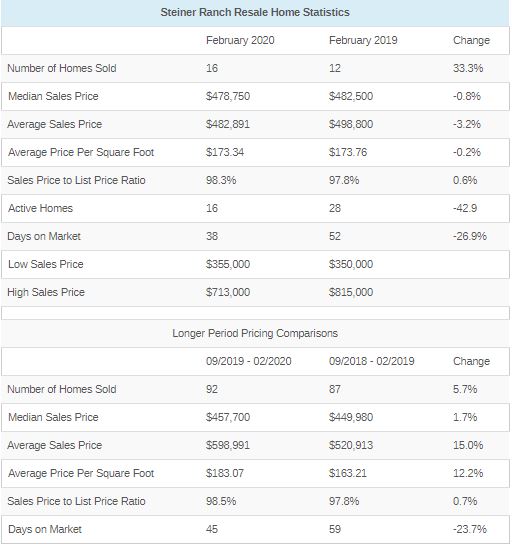 Greetings! I'm Craig Smyser with 1835 Realty. Welcome to the March 2020 edition of "How's the Market in Steiner Ranch." As usual, we'll talk about the stats but I'll also address the most common question I am asked right now – how will the corona virus impact real estate.
In February, 16 resale homes closed in Steiner Ranch which was up 33.3% from February 2019. The median price decreased 0.8% to $478,750. The average price of a home decreased 3.2% to $482,891. The average price per square foot decreased by 0.2% to $173.34. Of course, I always prefer to look at a longer time period to get a more accurate picture of the market because one month is a small data set. The number of resale homes sold over the last six months is 92, up 5.7% from the same time period the year prior. The median price of a resale home, which is the main measure of home prices, has increased 1.7% to $457,700. The average price increased by 15.0% to $598,991. The average price per square foot increased 12.2% to $183.07. Once again, the numbers are looking better than they did in 2019 and are more reflective of the type of market we have in Steiner.
The number of available resale homes at the end of February was 16, down 42.9% from last February. We continue to see very low inventory so if you are thinking of selling, please contact me soon. Inventories will likely increase over the coming months so let's find out if it makes sense to get your house on the market sooner rather than later. Across Steiner, the February sales ranged from a low of $355,000 to a high of $713,000. The average sales price to list price ratio was 98.3%. For homes that closed in February, the average days on market was 38, down from 52 last February.
As always, my website allows you to look at summary and detailed data for each Steiner Ranch neighborhood. Simply go to RealEstateInAustin.com and click on the big red "Search Sold Data" button towards the bottom of the page.
So a lot of people are asking me about how corona virus will impact real estate. The most obvious is that mortgage interest rates have been driven down as corona impacts other areas of the economy. This has only helped the real estate market. If the virus starts to significantly impact the overall economy through job losses, it would, of course, eventually be felt in real estate. But with so much pent up demand for housing right now, I really think it would have to be a significant disruption to the economy.
My annual workshop, How to Protest Your Property Tax Appraisal, is scheduled for Wednesday, April 22 at the Town Square Community Center. TCAD is still big time messing around with the appraisals for 2020 so depending upon what nonsense comes from them this year, I will tailor the workshop to address it. You should have your appraisal by then, so come on out if you want to learn how to protest or just get the most recent update on TCAD's craziness. By the way, if you visit my YouTube, you can find a few existing videos with my thoughts about TCAD.
If you have any real estate related questions, please don't hesitate to call me at 512-650-7300 or email me at [email protected]. Thanks for reading "How's The Market in Steiner Ranch."
Statistics based upon information from ACTRIS for the periods cited.