Steiner Ranch Housing Report - April 2020
Posted by Craig Smyser on Tuesday, April 7, 2020 at 4:29 PM
By Craig Smyser / April 7, 2020
Comment
In this installment of How's the Market in Steiner Ranch, I review the March sales stats, compare the last six-month time period to the same time last year, and I give an update on how the Coronavirus is affecting the real estate market.
To view summary and detailed sales information for all Steiner Ranch neighborhoods, check out the Neighborhood Home Sale Data section of my website. If you are looking to buy or sell a home in Steiner Ranch, contact me via email or at 512-650-7300. Previous editions of How's the Market in Steiner Ranch are also available. If you prefer to read instead of watch, here are the chart and transcript.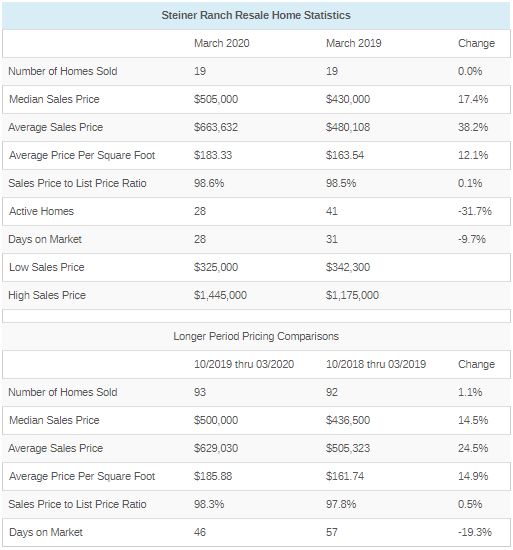 Greetings! I'm Craig Smyser with 1835 Realty. Welcome to the April 2020 edition of "How's the Market in Steiner Ranch." As usual, we'll talk about the stats but, of course, I will also address the coronavirus impact on real estate.
In March, 19 resale homes closed in Steiner Ranch which was the same as March 2019. The median price increased 17.4% to $505,000. The average price of a home increased 38.2% to $663,632. The average price per square foot increased by 12.1% to $183.33. Of course, I always prefer to look at a longer time period to get a more accurate picture of the market because one month is a small data set. The number of resale homes sold over the last six months is 93, up 1.1% from the same time period the year prior. The median price of a resale home has increased 14.5% to $500,000. The average price increased by 24.5% to $629,030. The average price per square foot increased 14.9% to $185.88. These are pretty strong numbers so let's take a closer look. In the six-month periods we are comparing, the number of homes sold is almost identical – off by just one. However, in 2019, 2/3 of the homes sold were under $500,000 while this year it is about half. So while prices are certainly rising, some of the increase in the median and average prices have to do with the distribution of homes sold. Looking at the homes currently for sale and under contract, I think we'll see this trend continue for a few months.
The number of available resale homes at the end of March was 28, down 31.7% from last March. Across Steiner, the March sales ranged from a low of $325,000 to a high of $1,445,000. The average sales price to list price ratio was 98.6%. For homes that closed in March, the average days on market was 28, down from 31 last March.
As always, my website allows you to look at summary and detailed data for each Steiner Ranch neighborhood. Simply go to RealEstateInAustin.com and click on the big red "Search Sold Data" button towards the bottom of the page.
Now on to the coronavirus impact. As I record this, the Austin area has been under the Stay-at-Home order for two weeks. During that time, 21 homes have been listed in the MLS, but only 5 have gone under contract. Comparing to the same time frame last year, 23 went on the market but 16 homes went under contract. That is a big drop in contracts written, especially compared to the Austin area overall in there are about 20% fewer homes hitting the market and 40% fewer contracts. Suburban areas are seeing fewer contracts compared with Austin itself. I do not expect any significant impact on real estate other than a shift in when sales occur to be a bit later. While it isn't business as usual, business is still being conducted. Interest rates remain low. Financing at the low end and high end is tightening a bit, but that should not have a big impact on a neighborhood like Steiner. Overall, I am very optimistic for the real estate market to come back very quickly. Many of my clients planning to sell their home are just pushing back the timing until the first wave is clear. If you are considering buying or selling, touch base with me and we can schedule a Zoom call to talk about market conditions and let me share with you the information you need to make the right decision for your family.
My annual workshop, How to Protest Your Property Tax Appraisal, will still go on, but, of course, not in person. Travis Central Appraisal District has delayed their publishing of the 2020 appraisals but may release them the week of April 13. Once they have released the data, I will announce a couple of webinars.
If you have any real estate related questions, please don't hesitate to call me at 512-650-7300 or email me at [email protected]. Thanks for reading "How's The Market in Steiner Ranch."