How's the Market in Steiner Ranch - September 2018
Posted by Craig Smyser on Thursday, September 13, 2018 at 12:43 PM
By Craig Smyser / September 13, 2018
Comment
In this month's episode of "How's the Market in Steiner Ranch," I review the August sales statistics for Steiner Ranch, the year-to-date numbers, and explain the trends we're seeing in the Steiner market. Below the video, you can find the same information in chart and text formats.
To view summary and detailed sales information for all Steiner Ranch neighborhoods, check out the Neighborhood Home Sale Data section of my website. If you are looking to buy or sell a home in Steiner Ranch, contact me via email or at 512-650-7300. Previous editions of How's the Market in Steiner Ranch are also available. If you prefer to read instead of watch, here are the chart and transcript.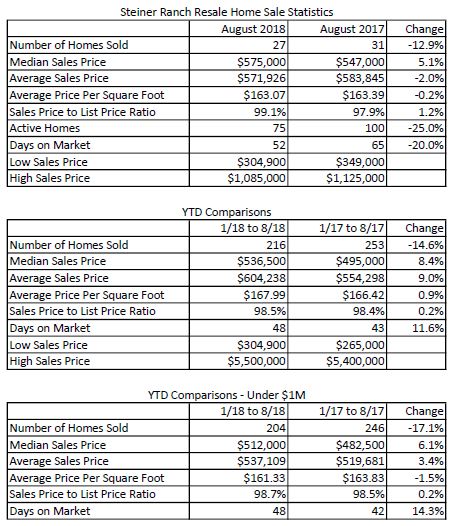 Greetings! I'm Craig Smyser with RE/MAX Capital City. Welcome to the September 2018 edition of "How's the Market in Steiner Ranch."
In August, 27 resale homes closed in Steiner Ranch which was down 12.9 pct. from August 2017. The median price increased 5.1 pct. to $575,000. The average price of a home decreased 2.0 pct. to $571,926. The average price per square foot decreased by .2 pct. to $165.25. As regular viewers know, I don't spend much time on the monthly numbers because they are so easily subject to big swings as the data set is small. However, I do want to point out something that rarely occurs – the median price is higher than the average price. This happens in months during which the distribution of sales is really tilted towards higher end properties and we'll talk more about it shortly. Looking at year-to-date numbers to give us a better picture of the overall market, the number of resale homes that have sold in 2018 is 216, which is down 14.6 pct. compared to the same time period in 2017. So far in 2018, the median price of a resale home has increased 8.4 pct. to $536,500. The average price increased by 9.0 pct. to $604,238. The average price per square foot increased 0.9 pct. to $167.99. These figures are all a bit lower when we exclude homes over $1 million.
We continue the trend in which entry level homes in Steiner Ranch are not selling as well as high-end homes. While there is no clear definition of what price makes an entry level home, mid-range home, and high-end home, we can still see some clear trends. Just by looking at the median price, at the end of August, about 17% of homes of homes available for sale under the median price were under contract while about 29% above it were under contract. In terms of raw numbers, there were more homes under contract in the higher half. As I said last month, this has been going on all year long and I'm not certain what the cause is, though my best guess is simply that the entry level homes in Steiner have gotten too expensive and buyers are choosing other neighborhoods because we are not seeing this trend across the broader Austin market.
The number of available resale homes at the beginning of August was 75, down 25.0 pct. from last August. Across Steiner, the August sales ranged from a low of $304,900 to a high of $1,085,000. The average sales price to list price ratio was 99.1 pct. For homes that closed in August, the average days on market was 52, down from 65 last August.
As always, my website allows you to look at summary and detailed data for each Steiner Ranch neighborhood. Simply go to RealEstateInAustin.com and click on the big red "Search Sold Data" button towards the bottom of the page.
While many people think the real estate market is dead this time of year, that is incorrect. If you are thinking of selling your house, give me a call and we can talk about whether or not this is a good time for you. If you have any real estate related questions, please don't hesitate to call me at 512-650-7300 or email me at [email protected]. Thanks for reading "How's The Market in Steiner Ranch."
Statistics based upon information from ACTRIS for the periods cited.