How's the Market in Steiner Ranch - October 2018
Posted by Craig Smyser on Friday, October 12, 2018 at 10:20 AM
By Craig Smyser / October 12, 2018
Comment
In this month's episode of "How's the Market in Steiner Ranch," I review the September sales statistics for Steiner Ranch, the year-to-date numbers, and briefly discuss the national real estate market. Below the video, you can find the same information in chart and text formats.
To view summary and detailed sales information for all Steiner Ranch neighborhoods, check out the Neighborhood Home Sale Data section of my website. If you are looking to buy or sell a home in Steiner Ranch, contact me via email or at 512-650-7300. Previous editions of How's the Market in Steiner Ranch are also available. If you prefer to read instead of watch, here are the chart and transcript.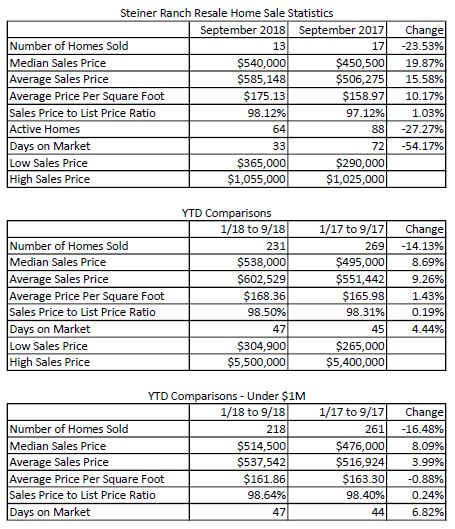 Greetings! I'm Craig Smyser with RE/MAX Capital City. Welcome to the October 2018 edition of "How's the Market in Steiner Ranch." Which, by the way, is the start of the eighth year of these monthly video updates. I'm beginning to repeat myself each month, but once again, the September data is much like the previous few months.
There were 13 resale homes that closed in Steiner Ranch which was down 23.5 pct. from September 2017. The median price increased 19.9 pct. to $540,000. The average price of a home increased 15.6 pct. to $585,148. The average price per square foot increased by 10.2 pct. to $175.13. If you've watched before you know I don't spend much time on the monthly numbers because the data set is small which can lead to a lot of fluctuation (as is the case this month). So let's look at year-to-date numbers to give us a better picture of the overall market. The number of resale homes that have sold in 2018 is 231, which is down 14.1 pct. compared to the same time period in 2017. So far in 2018, the median price of a resale home has increased 8.7 pct. to $538,000. The average price increased by 9.3 pct. to $602,529. The average price per square foot increased 1.4 pct. to $168.36. As has been the case all year long, we continue to see entry level homes performing below the pace of previous years while mid-range and high end homes are doing a bit better. This is resulting in a median price increase that looks better than it is, though the numbers are still quite healthy.
The number of available resale homes at the beginning of September was 64, down 27.3 pct. from last September, again repeating a pattern we've seen all year long. Though I report these numbers monthly, I track numbers weekly and our inventory has been lower than last year every week since mid-February. Across Steiner, the September sales ranged from a low of $365,000 to a high of $1,055,000. The average sales price to list price ratio was 98.1 pct. For homes that closed in September, the average days on market was 33, down from 72 last September.
As always, my website allows you to look at summary and detailed data for each Steiner Ranch neighborhood. Simply go to RealEstateInAustin.com and click on the big red "Search Sold Data" button towards the bottom of the page.
Stepping outside of Steiner Ranch, we are seeing a gradual slow down in the real estate market not just in Austin, but across much of the United States. The markets still favor sellers and prices continue to increase, though the rate of increase is lower than in the previous few years. Interest rates continue to creep up and while rates are still low from a historical standard, this current rise above 5% is the highest we've seen since 2011. Rates are expected to continue this increase for a while and it will certainly impact the market a bit, it isn't expected to cause a huge headache.
If you have any real estate related questions, please don't hesitate to call me at 512-650-7300 or email me at [email protected]. Thanks for reading "How's The Market in Steiner Ranch."
Statistics based upon information from ACTRIS for the periods cited.