How's the Market in Steiner Ranch - November 2018
Posted by Craig Smyser on Monday, November 12, 2018 at 12:43 PM
By Craig Smyser / November 12, 2018
Comment
In this month's episode of "How's the Market in Steiner Ranch," I review the October sales statistics for Steiner Ranch as well as the year-to-date numbers.. Below the video, you can find the same information in chart and text formats.
To view summary and detailed sales information for all Steiner Ranch neighborhoods, check out the Neighborhood Home Sale Data section of my website. If you are looking to buy or sell a home in Steiner Ranch, contact me via email or at 512-650-7300. Previous editions of How's the Market in Steiner Ranch are also available. If you prefer to read instead of watch, here are the chart and transcript.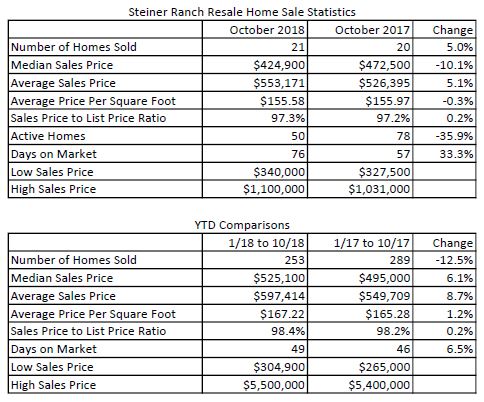 Greetings! I'm Craig Smyser with RE/MAX Capital City. Welcome to the November 2018 edition of "How's the Market in Steiner Ranch."
There were 21 resale homes that closed in Steiner Ranch which was up 5.0% from October 2017. That makes October only the third time this year that monthly sales outpaced 2017. The median price decreased 10.1% to $424,900. The average price of a home increased 5.1% to $553,171. The average price per square foot decreased by 0.3% to $155.58. The big drop in the median price is because entry level homes finally fought back and we had a bunch of them close which really triggered a decline in the median. This is a reason why I prefer to look at longer time frames which gives a more accurate picture of the overall market. So let's look at the year-to-date numbers. The number of resale homes that have sold is 253, which is down 12.5% compared to the same time period in 2017. The median price of a resale home has increased 6.1% to $525,100. The average price increased by 8.7% to $597,414. The average price per square foot increased 1.2% to $167.22.
The number of available resale homes at the beginning of October was 50, down 35.9% from last October, again repeating a pattern we've seen all year long. Over the past several years, we've had very low inventory in January and February so it has generally been a good time to sell a house. I expect our inventory might be even lower than we are used to in early 2019 so if you are thinking of selling, contact me now so we can determine if you would be well-served to be on the market in two months. Across Steiner, the October sales ranged from a low of $340,000 to a high of $1,100,000. The average sales price to list price ratio was 97.3%. For homes that closed in October, the average days on market was 76, up from 57 last October.
As always, my website allows you to look at summary and detailed data for each Steiner Ranch neighborhood. Simply go to RealEstateInAustin.com and click on the big red "Search Sold Data" button towards the bottom of the page.
I'd like to mention again this month that the real estate market both here and in many parts of the country is changing. It is swinging away from being a strong seller's market and more towards an equalized market. Prices are still increasing, but at a slower rate. Houses are still selling, but often taking longer. I've been in real estate for almost 20 years and I've been through ups and downs before. If you are looking for a real estate agent, I'd appreciate the opportunity to share with you how my experience in every kind of market can help you.
If you have any real estate related questions, please don't hesitate to call me at 512-650-7300 or email me at [email protected]. Thanks for reading "How's The Market in Steiner Ranch."
Statistics based upon information from ACTRIS for the periods cited.