How's the Market in Steiner Ranch - May 2017
Posted by Craig Smyser on Tuesday, May 9, 2017 at 4:30 PM
By Craig Smyser / May 9, 2017
Comment
In this edition of "How's the Market in Steiner Ranch," I review the April 2017 statistics, as usual. I will also discuss what I think we'll see in the next couple months in Steiner. Below the video, you can find the same information in chart and text formats.
To view summary and detailed sales information for all Steiner Ranch neighborhoods, check out the Neighborhood Home Sale Data section of my website. If you are looking to buy or sell a home in Steiner Ranch, contact me via email or at 512-650-7300. Previous editions of How's the Market in Steiner Ranch are also available. If you prefer to read instead of watch, here are the chart and transcript.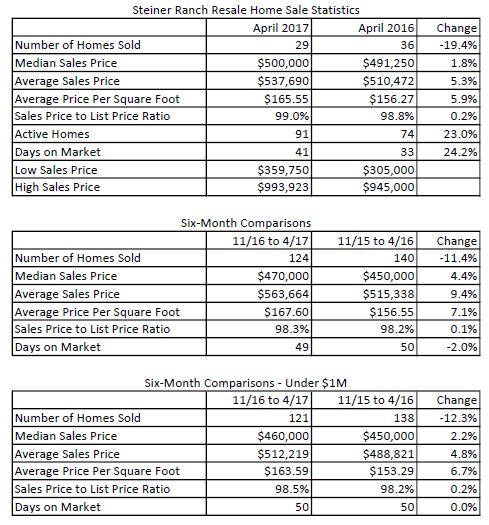 Greetings! I'm Craig Smyser with RE/MAX Capital City. Welcome to the May 2017 edition of "How's the Market in Steiner Ranch." I'm going to address the usual stats first, then talk in more detail about why I think the Steiner market is changing.
In April, 29 resale homes closed in Steiner Ranch which was down 19.4% from April 2016. The median price of a resale home increased 1.8% to $500,000. The average price of a home increased 5.3% to $537,690. The average price per square foot increased by 5.9% to $165.55. Now let's look at a longer time period to get a more accurate picture of the market. The number of resale homes that sold over the last six months is 124, down 11.4% from the same time period the year prior. The median price of a resale home has increased 4.4% to $470,000. The average price increased by 9.4% to $563,664. The average price per square foot increased 7.1% to $167.60.
The number of available resale homes at the beginning of April was 91, up 23.0% from last April. Across Steiner, the April sales ranged from a low of $359,750 to a high of $993,923. The average sales price to list price ratio was 99.0% For homes that closed in April, the average days on market was 41, up from 33 last April.
Overall, the number of homes sold has decreased but prices have increased. I don't think this trend will last. Instead, I think the rate of price increases is going to slow and may even become price decreases. As I already mentioned, the number of homes sold over the post six months has declined by 11.4%. Unfortunately, that is not because there are fewer homes for sale. In fact, during the same period, the number of homes offered for sale has increased by 13.2%. Though the sales figures we look at are from closings a month ago, the contracts were written two to three months ago. Therefore, these numbers are a snapshot from a few months back. I can tell you the number of homes hitting the market continues to outpace the ones getting contracts so the inventory continues to grow. Further, the number of price reductions is increasing. I definitely get the sense that the market is shifting, but the question will be by how much. Is this a big shift. I doubt it, but it is moving towards a more neutral market instead of a strong sellers market. As for pricing, I will reiterate that I believe the rate of increase will slow and it is possible it could even turn negative. Because Steiner is large and has many price ranges, it is not the same across the entire neighborhood so keep in mind if you plan to sell, we need to examine how your home fits in the whole market when pricing it.
As always, my website allows you to look at summary and detailed data for each Steiner Ranch neighborhood. If you have any real estate related questions, please don't hesitate to contact me via email or at 512-650-7300. Thanks for reading "How's The Market In Steiner Ranch."
Statistics based upon information from ACTRIS for the periods cited.