How's the Market in Steiner Ranch - March 2019
Posted by Craig Smyser on Monday, March 11, 2019 at 3:10 PM
By Craig Smyser / March 11, 2019
Comment
In this month's How's the Market in Steiner Ranch report I discuss the February sales stats and look at the past six-months of sales to get the full story on the sales statistics. Below the video, you can find the same information in chart and text formats.
To view summary and detailed sales information for all Steiner Ranch neighborhoods, check out the Neighborhood Home Sale Data section of my website. If you are looking to buy or sell a home in Steiner Ranch, contact me via email or at 512-650-7300. Previous editions of How's the Market in Steiner Ranch are also available. If you prefer to read instead of watch, here are the chart and transcript.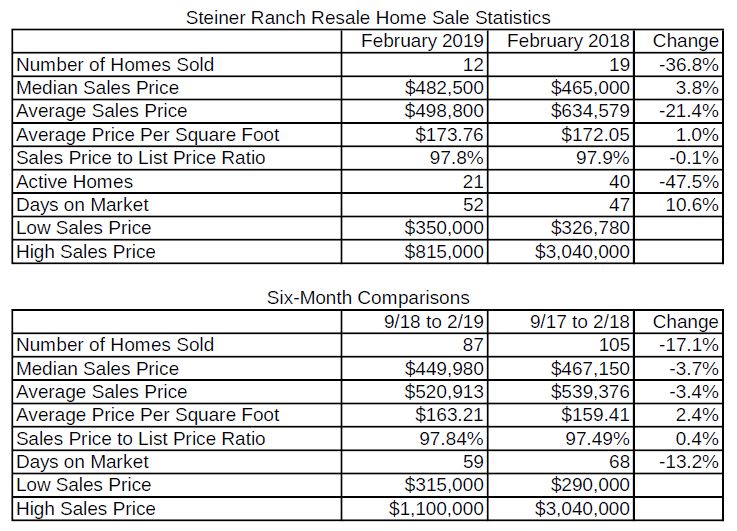 Greetings! I'm Craig Smyser with RE/MAX Capital City. Welcome to the March 2019 edition of "How's the Market in Steiner Ranch."
In February, 12 resale homes closed in Steiner Ranch which was down 36.8% from February 2018. The median price increased 3.8% to $482,500. The average price of a home decreased 21.4% to $498,800. The average price per square foot increased by 1.0% to $173.76. As always, and especially in the winter months, the data set of homes sales is small so it's a good exercise to look at a longer time period to get a more accurate picture of the market. The number of resale homes in the last six months is 87, down 17.1% from the same time period the year prior. The median price of a resale home has decreased 3.7% to $449,980. The average price decreased by 3.4% to $520,913. The average price per square foot increased 2.4% to $163.21. Trends that we started to see a few months ago continue to play out. The number of homes listed for sale in Steiner is extremely low which results in fewer homes sold. Normally this would increase prices, but because we are comparing to a time frame last year in which we had very few entry level homes for sale, those sales prices were statistically higher. Once again, what I see actually happening in the market is not a decline in prices, but sometimes the stats can show a deceptive picture.
The number of available resale homes at the beginning of February was 21, down 47.5% from last February. This number is just extraordinarily low. I expect we will get the normal spring break bump in inventory, but we will still be lower than usual. If you have any thoughts of selling your home, please contact me today so we can evaluate whether or not now is a good time to get on the market. Across Steiner, the February sales ranged from a low of $350,000 to a high of $815,000. The average sales price to list price ratio was 97.8%. For homes that closed in February, the average days on market was 52, up from 47 last February.
As always, my website allows you to look at summary and detailed data for each Steiner Ranch neighborhood. Simply go to RealEstateInAustin.com and click on the big red "Search Sold Data" button towards the bottom of the page.
I'd like to remind everyone to mark their calendar for my annual workshop, How to Protest Your Property Tax Assessment. The workshop will be held on Wednesday, April 24th at 7pm at the Towne Square Community Center. I'll explain the protest process, answer questions, and everyone who attends will receive relevant sales data to assist them with their own protest.
If you have any real estate related questions, please don't hesitate to call me at 512-650-7300 or email me at [email protected]. Thanks for reading "How's The Market in Steiner Ranch."
Statistics based upon information from ACTRIS for the periods cited.