How's the Market in Steiner Ranch - June 2017
Posted by Craig Smyser on Thursday, June 8, 2017 at 12:18 PM
By Craig Smyser / June 8, 2017
Comment
In this edition of "How's the Market in Steiner Ranch," I review the May 2017 statistics and compare the first part of 2017 to the same time in 2016. Below the video, you can find the same information in chart and text formats.
To view summary and detailed sales information for all Steiner Ranch neighborhoods, check out the Neighborhood Home Sale Data section of my website. If you are looking to buy or sell a home in Steiner Ranch, contact me via email or at 512-650-7300. Previous editions of How's the Market in Steiner Ranch are also available. If you prefer to read instead of watch, here are the chart and transcript.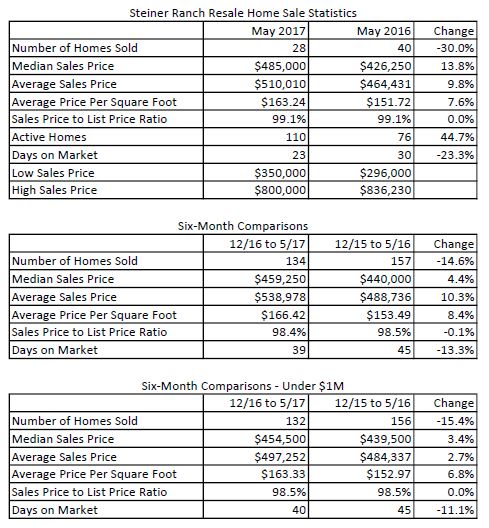 Greetings! I'm Craig Smyser with RE/MAX Capital City. Welcome to the June 2017 edition of "How's the Market in Steiner Ranch."
In May, 28 resale homes closed in Steiner Ranch which was down 30.0% from May 2016. The median price of a resale home increased 13.8% to $485,000. The average price of a home increased 9.8% to $510,010. The average price per square foot increased by 7.6% to $163.24. Now let's look at a longer time period to get a more accurate picture of the market. The number of resale homes that sold over the last six months is 134, down 14.7% from the same time period the year prior. The median price of a resale home has increased 4.4% to $459,250. The average price increased by 10.3% to $538,978. The average price per square foot increased 8.4% to $166.42. From time to time I present the sales figures that exclude homes that sold for $1 million or higher. I do this because Steiner Ranch does not have a lot of homes in this price range, but they can skew the sales figures. So let's take a look at the prices for the last six months without these higher end homes. The median price is up 3.4% to $454,500. The average price is $497,252, up just 2.7%. Again, as comparison, the average price was up 10.3% when the high-end homes were included – that's a big difference.
The number of available resale homes at the beginning of May was 110, up 44.7% from last May. This continues a trend that we have seen for several months in the number available homes is higher than it has been in several years. Across Steiner, the May sales ranged from a low of $350,000 to a high of $800,000. The average sales price to list price ratio was 99.1%. For homes that closed in May, the average days on market was 23, down from 30 last May. This does not mean that every house sells that fast. 23 days was the average for those that sold while the average days on market for currently available homes is around 60. Overall, the market hasn't changed much since last month. The number of sales continues to decline, the number of available homes remains high, and price increases are positive, but not large.
As always, my website allows you to look at summary and detailed data for each Steiner Ranch neighborhood. If you have any real estate related questions, please don't hesitate to contact me via email or at 512-650-7300. Thanks for reading "How's The Market In Steiner Ranch."
Statistics based upon information from ACTRIS for the periods cited.