How's the Market in Steiner Ranch - February 2019
Posted by Craig Smyser on Friday, February 15, 2019 at 12:07 PM
By Craig Smyser / February 15, 2019
Comment
This month's How's the Market in Steiner Ranch covers the January sales statistics for Steiner Ranch and I address worries regarding the housing market in the coming months and year. Below the video, you can find the same information in chart and text formats.
To view summary and detailed sales information for all Steiner Ranch neighborhoods, check out the Neighborhood Home Sale Data section of my website. If you are looking to buy or sell a home in Steiner Ranch, contact me via email or at 512-650-7300. Previous editions of How's the Market in Steiner Ranch are also available. If you prefer to read instead of watch, here are the chart and transcript.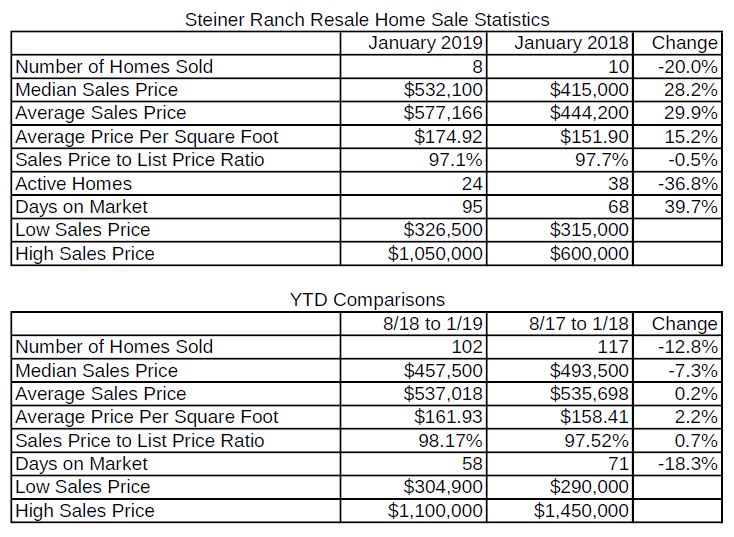 Greetings! I'm Craig Smyser with RE/MAX Capital City. Welcome to the February 2019 edition of "How's the Market in Steiner Ranch."
In January, 8 resale homes closed in Steiner Ranch which was down 20.0% from January 2018. The median price increased 28.2% to $532,100. The average price of a home increased 29.9% to $577,166. The average price per square foot increased by 15.2% to $174.92. The numbers seem great, but it's because we are comparing a small data set of just 8 homes this January and 10 last January. A big reason for the distortion is that we have a sale over $1 million this year versus a high sale of $600,000 last January so it causes a distorted average price and average price per square foot. So it's a good exercise to look at a longer time period to get a more accurate picture of the market. The number of resale homes in the last six months is 102, down 12.8% from the same time period the year prior. The median price of a resale home has decreased 7.3% to $457,500. The average price increased by 0.2% to $537,018. The average price per square foot increased 2.2% to $161.93. Now, these price drops seem pretty big considering that inventory is tight and sales have been good. Again, there is an explanation. We had about a 9-month period in which the available inventory and consequently the number of sales of entry-level homes in Steiner was lower than normal. While we seem to be back to normal now, we are comparing to the timeframe in which we had few entry-level sales and prices were seemingly higher. At this point, I am not concerned about prices really declining at these levels.
The number of available resale homes at the beginning of January was 24, down 36.8% from last January. We continue to see very low inventory so if you are thinking of selling, please contact me as the market will just be more crowded in the coming months. Across Steiner, the January sales ranged from a low of $326,500 to a high of $1,050,000. The average sales price to list price ratio was 97.1%. For homes that closed in January, the average days on market was 95, up from 68 last January.
As always, my website allows you to look at summary and detailed data for each Steiner Ranch neighborhood. Simply go to RealEstateInAustin.com and click on the big red "Search Sold Data" button towards the bottom of the page.
I do want to address one housing item that is much larger than Steiner Ranch. I hear a lot of people worried that the expected upcoming recession will be bad for housing. I disagree with this and am supported by a lot of economists. Y'all remember what happened to housing in the last recession, but don't forget that the whole recession was caused by housing. If you look at the prior four recessions before that, home prices actually increased during three of them and fell less than one percent in the other. Fundamentals in housing look strong, barring any unexpected macro-economic shock.
If you have any real estate related questions, please don't hesitate to call me at 512-650-7300 or email me at [email protected]. Thanks for reading "How's The Market in Steiner Ranch."
Statistics based upon information from ACTRIS for the periods cited.