How's the Market in Steiner Ranch - February 2017
Posted by Craig Smyser on Thursday, February 9, 2017 at 2:55 PM
By Craig Smyser / February 9, 2017
Comment
In this edition of "How's the Market in Steiner Ranch," I review the January 2017 statistics. Below the video, you can find the same information in chart and text formats.
To view summary and detailed sales information for all Steiner Ranch neighborhoods, check out the Neighborhood Home Sale Data section of my website. If you are looking to buy or sell a home in Steiner Ranch, contact me via email or at 512-650-7300. Previous editions of How's the Market in Steiner Ranch are also available. If you prefer to read instead of watch, here are the chart and transcript.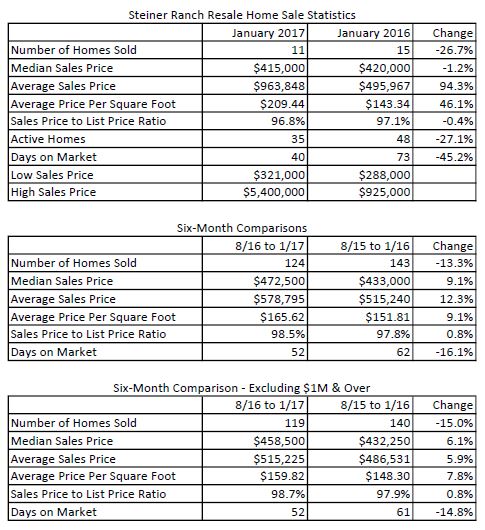 Greetings! I'm Craig Smyser with RE/MAX Capital City. Welcome to the February 2017 edition of "How's the Market in Steiner Ranch."
In January, 11 resale homes closed in Steiner Ranch which was down 26.7% from January 2016. There are some interesting pricing numbers so let me warn you up front that a big disclaimer will come afterward and we'll dissect the numbers further. The median price decreased 1.2% to $415,000. The average price of a home increased 94.3% to $963,848. The average price per square foot increased by 46.1% to $209.44. The numbers seem outrageous because we are comparing just this January to last January and we had two sales over $1 million, including one for over $5 million, so it greatly distorted the average price and average price per square foot. So let's look at a longer time period to get a more accurate picture of the market. The number of resale homes in the last six months is 124, down 13.3% from the same time period the year prior. The median price of a resale home has increased 9.1% to $472,500. The average price increased by 12.3% to $578,795. The average price per square foot increased 9.1% to $165.62. While these longer-term numbers are more realistic, there is still strong distortion because of a few high end homes so let's remove homes priced at $1 million or higher. In this case, the median price increases 6.1% to $458,500, the average sales price increases 5.9% to $515,225, and the average price per square foot increases 7.8% to $159.82. Clearly, even when we adjust for the high end homes, the prices are still performing quite well.
The number of available resale homes at the beginning of January was 35, down 27.1% from last January. Across Steiner, the January sales ranged from a low of $321,000 to a high of $5,400,000. The average sales price to list price ratio was 96.8%. For homes that closed in January, the average days on market was 40, down from 73 last January.
As always, my website allows you to look at summary and detailed data for each Steiner Ranch neighborhood, you can access that information here.
The number of homes coming to the market in Steiner Ranch will be increasing for the next several months. If you are thinking of selling your home this spring or summer, contact me today and we'll get the process started.
If you have any real estate related questions, please don't hesitate to contact me via email or at 512-650-7300. Thanks for reading "How's The Market In Steiner Ranch."
Statistics based upon information from ACTRIS for the periods cited.