How's the Market in Steiner Ranch - August 2018
Posted by Craig Smyser on Tuesday, August 14, 2018 at 2:49 PM
By Craig Smyser / August 14, 2018
Comment
In this month's episode of "How's the Market in Steiner Ranch," I review the July sales statistics for Steiner Ranch, the year-to-date numbers, and explain the trends we're seeing in the Steiner market. Below the video, you can find the same information in chart and text formats.
To view summary and detailed sales information for all Steiner Ranch neighborhoods, check out the Neighborhood Home Sale Data section of my website. If you are looking to buy or sell a home in Steiner Ranch, contact me via email or at 512-650-7300. Previous editions of How's the Market in Steiner Ranch are also available. If you prefer to read instead of watch, here are the chart and transcript.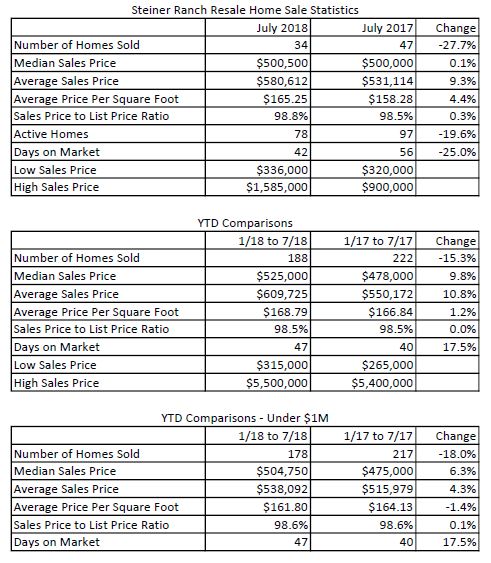 Greetings! I'm Craig Smyser with RE/MAX Capital City. Welcome to the August 2018 edition of "How's the Market in Steiner Ranch."
In July, 34 resale homes closed in Steiner Ranch which was down 27.7% from July 2017. This follows last month's decline of 34% and we'll talk more about this in a bit. The median price increased 0.1% to $500,500. The average price of a home increased 9.3% to $580,612. The average price per square foot increased by 4.4% to $165.25. It's always a good idea to look at a longer time period to get a more accurate picture of the market so let's look at year-to-date figures. The number of resale homes that have sold in 2018 is 188, which is down 15.3% compared to the same time period in 2017. All of this drop has occurred in June and July. This follows trends we are seeing nationwide in that the once red-hot market is showing signs of cooling off. It doesn't mean that the market is turning negative, but instead is simply returning to a more normal market in which homes take longer to sell and the rate of appreciate, while still positive, is not as fast-paced. Also, much like the rest of the nation, fewer homes are being listed for sale so the inventory of homes is lower. While our sales are down about 15% so far this year, the number of homes listed for sale is down almost 20%. You'll notice that while demand is down, the supply is down further. That's one reason why prices keep going up. So far in 2018, the median price of a resale home has increased 9.8% to $525,000. The average price increased by 10.8% to $609,725. The average price per square foot increased 1.2% to $168.79. When we remove homes over $1 million (which was just 10 so far this year and 5 last year), the median price increased 6.3%, the average price increased 4.3%, and the price per square foot was down 1.4%. One thing I do want to mention because it is a trend we've seen all year is that entry level homes in Steiner Ranch are not selling as well as they have in year's past. While the number of homes that have sold over $500,000 is relatively flat, the number of homes under $500,000 that have sold is down 28%. This helps to contribute to the price increases we see since fewer lower end homes are in the mix. The bigger question is why are the lower end homes not selling as well this year? One reason may be higher interest rates, but we aren't seeing this dip across the rest of the Austin market so I don't think that's the answer. Personally, I think that we may have just reached the point at which the entry level prices in Steiner are too high for some first time buyers and that they are finding newer and/or larger homes in other areas of town. While Steiner is still a great place to live, it may just be getting out of reach for some buyers.
The number of available resale homes at the beginning of July was 78, down 19.6% from last July demonstrating what I've already shared. Across Steiner, the July sales ranged from a low of $336,000 to a high of $1,585,000. The average sales price to list price ratio was 98.8%. For homes that closed in July, the average days on market was 42, down from 56 last July.
As always, my website allows you to look at summary and detailed data for each Steiner Ranch neighborhood. Simply go to RealEstateInAustin.com and click on the big red "Search Sold Data" button towards the bottom of the page.
The 9th Annual Kicking for Cash competition is coming up on September 7. In this event, Vandegrift students kick field goals to see who can kick the longest one and earn cash for their student group. I'm proud to be the creator and sole sponsor for this event. So come out to the first home game of the year to watch this Vandy tradition. By the way, Alex Stadthaus was the winner from the 2016 competition. He was a soccer player who caught the eye of some football folks during the event. He joined the Vandegrift football team and is now a kicker at the University of Southern California.
If you have any real estate related questions, please don't hesitate to call me at 512-650-7300 or email me at [email protected]. Thanks for reading "How's The Market in Steiner Ranch."
Statistics based upon information from ACTRIS for the periods cited.