How's the Market in Steiner Ranch - April 2017
Posted by Craig Smyser on Friday, April 7, 2017 at 2:45 PM
By Craig Smyser / April 7, 2017
Comment
In this edition of "How's the Market in Steiner Ranch," I review the March 2017 statistics. Below the video, you can find the same information in chart and text formats.
To view summary and detailed sales information for all Steiner Ranch neighborhoods, check out the Neighborhood Home Sale Data section of my website. If you are looking to buy or sell a home in Steiner Ranch, contact me via email or at 512-650-7300. Previous editions of How's the Market in Steiner Ranch are also available. If you prefer to read instead of watch, here are the chart and transcript.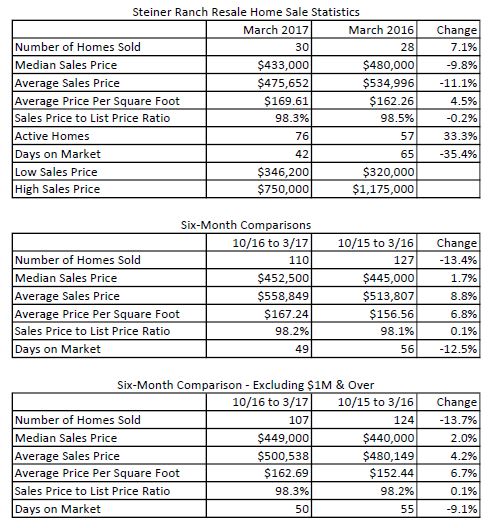 Greetings! I'm Craig Smyser with RE/MAX Capital City. Welcome to the April 2017 edition of "How's the Market in Steiner Ranch."
In March, 30 resale homes closed in Steiner Ranch which was up 7.1% from March 2016. The median price of a resale home decreased 9.8% to $433,000. The average price of a home decreased 11.1% to $475,652. The average price per square foot increased by 4.5% to $169.61. Now let's look at a longer time period to get a more accurate picture of the market. The number of resale homes in the last six months is 110, down 13.4% from the same time period the year prior. The median price of a resale home has increased 1.7% to $452,500. The average price increased by 8.8% to $558,849. The average price per square foot increased 6.8% to $167.24.
The number of available resale homes at the beginning of March was 76, up 33.3% from last March. The numbers have continued to climb since then. In fact, as I record this video in early April, there are more active homes on the market now than at any point in 2016. Homes are coming to the market faster than the market is currently absorbing them. During the first 3 months of 2016, 102 homes were listed for sale in Steiner Ranch. During the first 3 months of this year, it was 137 which is a 34% increase. If this continues, we will certainly see pressure on pricing – not necessarily that prices would decline, but that increases would be held in check. Across Steiner, the March sales ranged from a low of $346,200 to a high of $750,000. The average sales price to list price ratio was 98.3%. For homes that closed in March, the average days on market was 42, down from 65 last March.
My free, annual workshop "How to Protest Your Property Tax Appraisal" is approaching. We'll discuss the protesting process, deadlines, and expectations for success. All attendees will receive sales information for their specific neighborhood that can be used to protest. We'll meet at the Towne Square Community Center in Steiner Ranch on Tuesday, May 2nd at 7:00pm.
I also want to mention that I am running for the board of directors for the Steiner Ranch Master Association from District 4. I won't spend much time outlining here why I am running, but you can investigate more at Facebook.com/CraigSmyserSteinerRanch. If you live in District 4, I would appreciate your vote.
As always, my website allows you to look at summary and detailed data for each Steiner Ranch neighborhood. Simply visit here, and chose a neighborhood from the drop down menu.
If you have any real estate related questions, please don't hesitate to contact me via email or at 512-650-7300. Thanks for reading "How's The Market In Steiner Ranch."
Statistics based upon information from ACTRIS for the periods cited.