How's the Market in Steiner Ranch - 2016 Year End
Posted by Craig Smyser on Tuesday, January 10, 2017 at 1:26 PM
By Craig Smyser / January 10, 2017
Comment
In this edition of "How's the Market in Steiner Ranch," I discuss the 2016 year end stats and make my predictions for 2017. Below the video, you can find the same information in chart and text formats.
Extra sales statistics mentioned in the video can be found here:
Price changes for each Steiner Ranch neighborhood.
Complete set of graphs with 5-year comparison data.
To view summary and detailed sales information for all Steiner Ranch neighborhoods, check out the Neighborhood Home Sale Data section of my website. If you are looking to buy or sell a home in Steiner Ranch, contact me via email or at 512-650-7300. Previous editions of How's the Market in Steiner Ranch are also available. If you prefer to read instead of watch, here are the chart and transcript.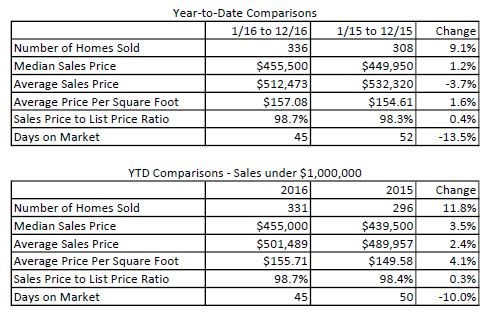 Greetings! I'm Craig Smyser with RE/MAX Capital City. Welcome to the 2016 Year End edition of "How's the Market in Steiner Ranch." In short, it was another good year for real estate in Steiner.
First, I want to remind you that all of these figures are for resale homes only. There are still a few new construction homes in Steiner Ranch, but I am not including them in these statistics. In 2016, 336 homes closed in Steiner Ranch which was up 9.1% from 2015. The median price of a resale home increased 1.2% to $455,500, the average price decreased 3.7% to $512,473, and the average price per square foot increased 1.6% to $157.08. These numbers are not as good as the past several years so let's take a closer look. In real estate, the most widely used measure of home values is the median price. So while the average price decreased, you will always hear me talk about an increase this past year of just over 1%. Though prices have increased each year since 2011, the rate of increase has slowed each year.
One key difference in the prices for 2016 has to do with the number of homes that sold for $1 million or more. In 2015, 12 homes sold at that price point while only 5 sold in 2016. It's not that a lot of these homes were offered for sale and no one bought them – rather, there just were not many offered for sale in 2016. To show you the impact of these homes, let's look at the same pricing stats again, but this time excluding homes that sold for $1 million or more. In this case, the 2016 median price increased 3.5% instead of 1.2%. The impact on the average price is greater, though, changing a 3.7% decline into a 2.4% increase – that's more than six percentage points! Finally, the price per square foot changed from a 1.6% increase to a 4.1% increase. So to repeat a point I said all year long, the market in Steiner is stronger than the numbers indicate.
I do want to point out that prices do not rise at the same level across all of Steiner Ranch. Some neighborhoods were up and some were down. If you would like to see a list of each Steiner neighborhood and its annual price change, click here.
Throughout much of the year, the inventory in 2016 was lower than in 2015. In fact, once we rolled into March, the 2016 inventory levels were lower for the duration of the year. More homes were offered for sale in 2016, yet the available inventory was lower meaning we had sufficient demand to keep up with the increased supply. By the end of the year, the number of available homes was 43 which was 17.3% fewer than the 52 available at the end of 2015.
Last year, the sale prices in Steiner ranged from a low of $288,000 to a high of $1,393,000. The average sales price to list price ratio was 98.7%. For homes that closed in 2016, the average days on market was 45, down 13.5% from 2015.
As always, my website allows you to look at summary and detailed data for each home that sold in Steiner Ranch, you can access that information here.
So it's time to not only make 2017 predictions, but look at how I did with my 2016 predictions. About a year ago, I predicted that prices would rise by 3.5%. While the official number was 1.2%, 3.5% was right on the money when we exclude the $1 million and over crowd. So, since I have the luxury of grading my own exam, I'm going to take half credit for that answer. Sadly, I woefully missed on the number of homes that would sell. I predicted a 1.5% decrease but the actual figure increased 9.1%. That's a difference of about 33 homes. But this sorry score will not deter me from predicting the 2017 market (though I would warn all of you from wagering based on my prognosticating). This year I predict that the number of homes sold will increase, but by a small amount. Officially, I will say 3.6% which translates to 348 resale homes sold. As for price, this gets tricky. As we saw this year, the number of homes over $1 million can have a big impact. With one house currently available at $6.2 million and another one at $7.75 million, they could have a big impact on the average price if they sell. However, I am predicting the median price and I will go with a 2.3% price increase for 2017. So that's it. 2016 was a pretty good year for Steiner Ranch. If you would like to see more detailed statistics and graphs, visit here.
If you are thinking of buying or selling in Steiner Ranch in 2017, I would love the opportunity to earn your business. To find out why I am consistently one of the top real estate agents serving Steiner Ranch and how you can use that to your advantage, call me at 512-650-7300 or email me at [email protected]. Thanks for watching "How's The Market in Steiner Ranch."
Statistics based upon information from ACTRIS for the periods cited.